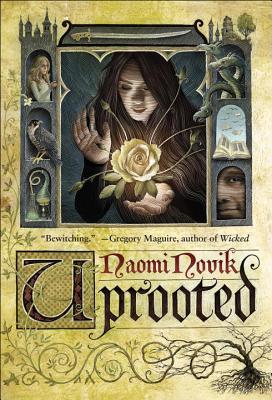 Title:
Uprooted
Author:
Naomi Novik
Release:
May 19, 2015
Rating:
★ ★ ★ ★
Pages:
435
Format:
Hardback
Series:
No
Summary:
"Our Dragon doesn't eat the girls he takes, no matter what stories they tell outside our valley. We hear them sometimes, from travelers passing through. They talk as though we were doing human sacrifice, and he were a real dragon. Of course that's not true: he may be a wizard and immortal, but he's still a man, and our fathers would band together and kill him if he wanted to eat one of us every ten years. He protects us against the Wood, and we're grateful, but not that grateful."
Agnieszka loves her valley home, her quiet village, the forests and the bright shining river. But the corrupted Wood stands on the border, full of malevolent power, and its shadow lies over her life.
Her people rely on the cold, driven wizard known only as the Dragon to keep its powers at bay. But he demands a terrible price for his help: one young woman handed over to serve him for ten years, a fate almost as terrible as falling to the Wood.
The next choosing is fast approaching, and Agnieszka is afraid. She knows—everyone knows—that the Dragon will take Kasia: beautiful, graceful, brave Kasia, all the things Agnieszka isn't, and her dearest friend in the world. And there is no way to save her.
But Agnieszka fears the wrong things. For when the Dragon comes, it is not Kasia he will choose. (
goodreads
)
Thoughts:
The main reason for picking up this book was because I heard Brandon Sanderson speak so highly of it. I wanted to know what was so interesting about the book. It's hard to read re-tellings for me. It's hard to actually find one that I actually enjoyed. When I first started reading this book I wasn't really pull into the story line, until I reach 30 Into the story. That is when it started picking up. I was happy that it didn't take 100 pages for the story to pick up. Something that has happened lately in stories that I have been reading lately.
I really enjoyed the story. It was different that the retellings that have been coming out lately. It was different than the others. I liked that the book also stands on it's own. It's just one book instead of a series. Which most of the books coming out lately are. It's hard to find a book that stands on it's own lately.
In the story we follow Agnieszka journey as she is chosen by the Dragon. The protector of her land. We discover the reason why she is the one chosen and we see the development between her and the Dragon. One thing I really like about the story was the relationship between Agnieszka and Kasia. We rarely see the relationships between friends in stories. We always see female characters against each other instead of working together and this book did very well in having those characters work together. We also see how strong their friendship is which I really loved.
It was good to see the development of the character and see how she had to grow on her own also. I did find areas that were slow but I understood that they were necessary for the story to develop. Overall I would say you should give the story a try. It's very entertaining. I do warn there is 2 scenes that are for mature readers. They are short scenes. But just a warning if you don't like reading sexual scenes.