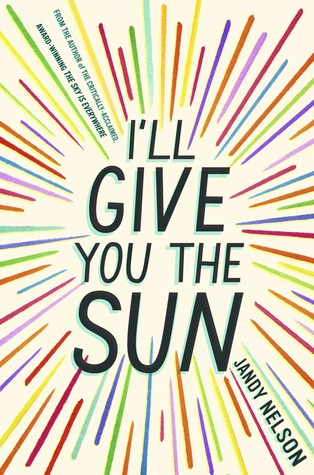 Title:
I'll Give you the Sun
Author:
Jandy Nelson
Release:
September 16th 2014
Rating:
★ ★ ★ ★ ★
Pages:
371
Format:
Hardback
Where to find it:
Series:
No
Summary:
A brilliant, luminous story of first love, family, loss, and betrayal for fans of John Green, David Levithan, and Rainbow Rowell
Jude and her twin brother, Noah, are incredibly close. At thirteen, isolated Noah draws constantly and is falling in love with the charismatic boy next door, while daredevil Jude cliff-dives and wears red-red lipstick and does the talking for both of them. But three years later, Jude and Noah are barely speaking. Something has happened to wreck the twins in different and dramatic ways . . . until Jude meets a cocky, broken, beautiful boy, as well as someone else—an even more unpredictable new force in her life. The early years are Noah's story to tell. The later years are Jude's. What the twins don't realize is that they each have only half the story, and if they could just find their way back to one another, they'd have a chance to remake their world.
This radiant novel from the acclaimed, award-winning author of The Sky Is Everywhere will leave you breathless and teary and laughing—often all at once.
Thoughts:
This book gave me feelings that I haven't felt about a book in a long time. I have never felt so many emotions in one book. The emotion where your chest hurt from emotions being held back. I was close to tears in many parts as I read.
This is a book that must be read by everyone. I was hectic to reading the book because of all the hype that it had when it came out. How people said it was so amazing. I was scared to picked up for that reason. I had some bad experiences with hype books. However, my friend Cal insisted on me picking up this book and I had no other choice than to pick it up. She has done no wrong to me by the books she had recommended me to read in the past and this one was no exception.
This has now become one of my favorite books of all time. What brought it to become one of my favorite books is the characters. The fact that these characters go through so much. What they had to deal with and how grief is a process that must be shared and not kept to one self. In order to move forward you need others helps. Alone a person suffers, lies hurt people. That is what this book try to showed to it's reader.
One of the things I also loved of this story was how it focus on art. How these individuals lives were surrounded by art itself. How it affected their life. I think this is a well deserve of it's hype. It's so beautifully written and with so much emotions.
Have you guys read a book that has given you so much emotion that you can express yourself of how beautiful it is? Have you read this book? And did it give you emotions?