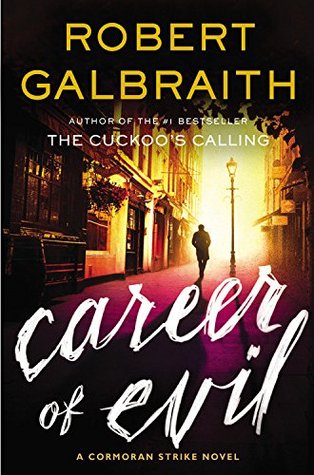 Title:
Career of Evil (Cormoron Strike #3)
Author:
Robert Galbraith (JK Rowling)
Release:
October 20th 2015
Rating:
★ ★ ★ ★ ★
Pages:
497
Format:
Hardback/Audiobook
Series:
Yes - Cormoron Strike
Summary:
Cormoran Strike is back, with his assistant Robin Ellacott, in a mystery based around soldiers returning from war.
When a mysterious package is delivered to Robin Ellacott, she is horrified to discover that it contains a woman's severed leg.
Her boss, private detective Cormoran Strike, is less surprised but no less alarmed. There are four people from his past who he thinks could be responsible – and Strike knows that any one of them is capable of sustained and unspeakable brutality.
With the police focusing on the one suspect Strike is increasingly sure is not the perpetrator, he and Robin take matters into their own hands, and delve into the dark and twisted worlds of the other three men. But as more horrendous acts occur, time is running out for the two of them…
Career of Evil is the third in the series featuring private detective Cormoran Strike and his assistant Robin Ellacott. A mystery and also a story of a man and a woman at a crossroads in their personal and professional lives. (
goodreads
)
Thoughts:
What can I say about this book other than it was another amazing book to the series and I want more. I think this series gets better and better with each book. I like how we see the characters evolve with each chapter and how much more information we get from the characters. I was shock with some information that was reveal about one of the main characters in the series. That was an intense twist. I like how strong the characters are within the story. We get to know them more as the book progress. That is one of the things that I enjoy most of this series. The character development.
Another thing I like about this series are the cases. They are so different and they pulled you into the story. They keep you on the edge and keep you guessing what will come next. Some of the turns you would have never guess it would have happened and that is a thing that I love. I like that we don't know what is coming. That we don't expect the outcome.
One thing about this book is that I hear it in audiobook format. I love the narrator for this series. It's the perfect voice for the character. When I am hearing it I picture Cormoran speaking those line. It's not to slow and it's not too fast, it's the perfect pace. The reader doesn't bore you.
If you like a good mystery book and you are yet to read the Cormorant Strike series I highly recommend it. You will not be disappointed at all.