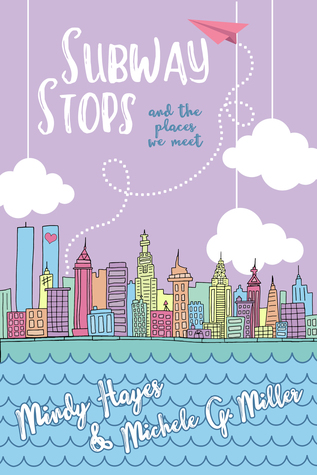 Title:
Subway Stops and the places we meet (#2)
Author:
Mindy Hayes and Michele C Miller
Release:
February 26, 2017
Rating:
★ ★ ★ ★ ★
Pages:
405
Where to find it:
Amazon
|
Bookdepository
Series:
Yes
Format:
Paperback
Summary:
On June 18, 1992, Flight 397 crashed off the coast of Long Island, claiming the lives of all on board. Cole and Samantha, two strangers who randomly meet one year later at a memorial for the crash, both lost loved ones that day.
There are over seven million people in New York City.
One random encounter is called chance.
Two is coincidence.
Three? Well, baby, we call that fate.(
goodreads
)
Thoughts:
I really love this series. I feel it's different from contemporary books. Because like the first book in this series the relationships take it's time. The love interest in the book don't start dating right away. It first begins as a friendship. This is something I wish more contemporary romance would do
(maybe some do and I am yet to read them. If you guys have any recommendations please leave them in the comments).
This series is something I just stumble on goodreads and was happy about that.
The story follows two individuals that lost someone in a tragic event and develop a friendship that eventually becomes a romance. Even though it's the second in the series. It does give itself to read as a stand alone. There is a few inserts from the previous book but you don't really have to pick it up. However, I highly recommend to pick up the first book in the series. Because it's such a gem. I loved it so much. I also did a review for
Paper Planes and other things we lost
if you would like to read.
This is also a great friendship book between both female and male characters. It doesn't feel force at all. Which is something I really enjoyed.
I can't wait for the story to continue in
Chasing Cars and the Lessons we learned
.