Another week in reading gone great. I also did a review of
A Gathering of Shadows
. I really need to put my self in a posting schedule. I am hoping to getting that down by the beginning of this week. So far I have been review all the books I have reading. Which that is a good thing. I just need to try and not put too much of a gap between review. I will hopefully be posting different types of post during the upcoming weeks. I have been doing really good in my reading so far which that makes me happy. Hopefully I don't fall of the wagon. Here are 4 more books that I read the previous week. Hoping to get my review up from this passing week soon. Don't want to fall to behind schedule. If you guys have any ideas of what you guys would like me to post let me know.
Title:
Lisey's Story
Author: Stephen King
Release: October 24, 2006
Rating:★ ★ ★ ★
Pages:
513
Where to find it:
Amazon
|
Bookdepository
Series:
No
Format:
Hardcover
Summary:
Lisey Debusher Landon lost her husband, Scott, two years ago, after a twenty-five-year marriage of the most profound and sometimes frightening intimacy. Scott was an award-winning, bestselling novelist and a very complicated man. Early in their relationship, before they married, Lisey had to learn from him about books and blood and bools. Later, she understood that there was a place Scott went -- a place that both terrified and healed him, that could eat him alive or give him the ideas he needed in order to live. Now it's Lisey's turn to face Scott's demons, Lisey's turn to go to Boo'ya Moon. What begins as a widow's effort to sort through the papers of her celebrated husband becomes a nearly fatal journey into the darkness he inhabited. Perhaps King's most personal and powerful novel, "Lisey's Story" is about the wellsprings of creativity, the temptations of madness, and the secret language of love. (goodreads)
Thoughts:
I really like this story. I enjoyed the format that it was written. This could be one of the top Stephen King books I have read so far. If you like his writing I recommend this book because it also gives you another aspect of his stile. It doesn't completely feel like his normal books (horror) but at the same time it still leaves his mark and you see how it is his book.
As we follow Lisey in the story we feel her lost and the struggle of living without her husband. As a reader you are thrown into her world and the mystery behind her life and her husbands. I really enjoyed it and I recommend it.
Title: Ghosted, Vol. 1 Haunted Heist
Author: Joshua Williamson
Release: December 4, 2013
Pages: 144
Series:
Yes
Format:
Paperback Trade
Summary:
Jackson T. Winters is one of the greatest criminal masterminds to ever live... except he's rotting in jail after his last, doomed score. But when a filthy rich collector breaks him out, he's tasked with putting together an elite team of paranormal experts to do the impossible: Steal a ghost from a haunted house of horrors! Collects GHOSTED #1-5. (
goodreads
)
Thoughts:
I want to read everything by Joshua Williamson. He is easily becoming one of my favorite comic book writers out there. His stories always have to do with horror and the fantasy realm, which are two of my favorite things. I really enjoyed how his this comic story he incorporates a heist and horror. It really cleaver how he did that. It all felt like it flowed so well together. I was instantly pulled into the story and the mystery behind it all. I really loved it and can't wait to read the next volume of this world.
Really recommend picking up something from him.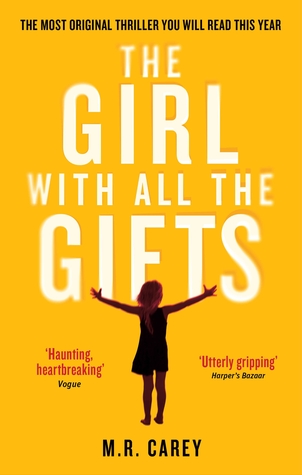 Title:
The Girl with all the Gifts
Rating:★ ★ ★ ★
Pages:
460
Where to find it:
Amazon
|
Bookdepository
Series:
No
Format:
Paperback
Summary:
Melanie is a very special girl. Dr. Caldwell calls her "our little genius." Every morning, Melanie waits in her cell to be collected for class. When they come for her, Sergeant Parks keeps his gun pointing at her while two of his people strap her into the wheelchair. She thinks they don't like her. She jokes that she won't bite, but they don't laugh. Melanie loves school. She loves learning about spelling and sums and the world outside the classroom and the children's cells. She tells her favorite teacher all the things she'll do when she grows up. Melanie doesn't know why this makes Miss Justineau look sad. The Girl with All the Gifts is a sensational thriller, perfect for fans of Stephen King, Justin Cronin, and Neil Gaiman. (
goodreads
)
Thoughts:
This was a story that I really enjoyed. The world was intriguing to me. Such a different idea of the Zombie lore. I enjoyed the new refreshing idea been seeing a lot of twist in the genre and I am really enjoying it. I love zombie movies and I have really been wanting to read more zombie books. Ended up picking this one and I wasn't disappointed at all. It felt refreshing and brilliant at the same time.
As we follow these character we see the developments and what they had to do to survive in this world and you don't really know who is right and who is wrong when it comes down to finding out how to survive in this new world.
I like that the story doesn't pick up a few years after the world is infected. Haven't really read a lot of books in that point of the outbreak. It was nice and refreshing.
I also ended up watching the movie which I really enjoyed. It was really similar to the book. I like that aspect. They did had to change a few things for the sake of time. But I did wish they showed more aspects of some of the characters.
Overall if you like novels about zombies I recommend you to pick this book up. It also gives you so much more and get's you thinking on accepting what the world has become and what people do to survive.
Title:
Preacher Book 1
Pages:
352
Where to find it:
Amazon
|
Bookdepository
Series:
Yes
Format:
Paperback Trade
Summary:
Available for the first time in hardcover, preacher Jesse Custer begins his dark journey to find God, in this volume collecting PREACHER #1-12, plus pinups from PREACHER #50 and #66. After merging with a bizarre spiritual force called Genesis, Texan preacher Jesse Custer has become completely disillusioned with the beliefs to which he had dedicated his entire life. Now possessing the power of "the word," an ability to make people do whatever he utters, Custer begins a violent and riotous journey across the country. Joined by his gun-toting girlfriend Tulip and the hard-drinking Irish vampire Cassidy, Custer loses faith in both God and man as he witnesses dark atrocities and improbable calamities during his exploration of America. This new collected edition features an all-new introduction by series writer Garth Ennis. (
goodreads
)
Thought:
I really didn't like this first book in the comic series and I don't think I will be continuing it. The beginning of it was interesting but as I read more. I felt like it drag. I also don't know how I feel with some issues in the comic book. I usually could read pretty much any topic. But I really don't like the way this series is written.
Really don't have much to say about it but this.
Title:
Off the Record (#1)
Author: Grath Ennis
Release: March 11, 2014
Rating:★ ★
Pages:
445
Where to find it:
Amazon
|
Bookdepository
Series:
Yes
Format:
Paperback
Summary:
Liz Dougherty has no idea a single question is about to change her life. Her first big reporting assignment for her North Carolina college newspaper has her covering a state senator's impromptu press conference. Brady Maxwell may have everything it takes to be a politician—a winning pedigree, devastating good looks, a body made to wear suits—but his politics rub Liz the wrong way. When Liz's hard-hitting question catches the upstart senator off-guard, it impresses Hayden Lane, Liz's editor who feels she's headed for a promising career as a reporter. But Liz is also headed into a secret romance with Brady that could destroy both their ambitions. Though he's a bachelor, potential voters might frown on Brady cozying up to a reporter. And Liz isn't sure sneaking around is enough for her—especially when things between her and Hayden might be less platonic than she thought. Sleek, sexy, and smart, Off the Record ventures into a high-stakes campaign and an even higher-stakes affair to answer the question: When politics and love collide, can there ever be a winner? (
goodreads
)
Thoughts:
I have been in the mood of reading New Adult novels. Some of them have been good and some of them haven't been that great. This one wasn't that great. Or it just wasn't what I wanted from the characters. I picked it up because it had such high reviews but I was really disappointed by the characters. There is some New Adult books were the female character are written with confidents and are not allow to be push over by the male character in the story. Although this character is independent she is easily submissive to the male character without question. Even when some of the things he does aren't okay.
I don't know if I will be continuing with this series. It pretty much a straight forward romance novel with the characters being in a secret relationship. I get why some people will enjoy it.