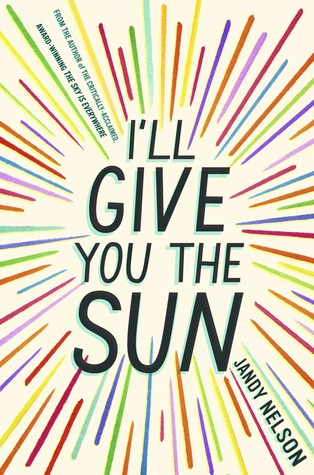 Title:
I'll Give you the Sun
Author:
Jandy Nelson
Release:
September 16th 2014
Rating:
★ ★ ★ ★ ★
Pages:
371
Format:
Hardback, Paperback, Audio, Kindle, Nook
Where to find it:
AMAZON
BnN
Series:
No
Summary:
A brilliant, luminous story of first love, family, loss, and betrayal for fans of John Green, David Levithan, and Rainbow Rowell
Jude and her twin brother, Noah, are incredibly close. At thirteen, isolated Noah draws constantly and is falling in love with the charismatic boy next door, while daredevil Jude cliff-dives and wears red-red lipstick and does the talking for both of them. But three years later, Jude and Noah are barely speaking. Something has happened to wreck the twins in different and dramatic ways . . . until Jude meets a cocky, broken, beautiful boy, as well as someone else—an even more unpredictable new force in her life. The early years are Noah's story to tell. The later years are Jude's. What the twins don't realize is that they each have only half the story, and if they could just find their way back to one another, they'd have a chance to remake their world.
This radiant novel from the acclaimed, award-winning author of
The Sky Is Everywhere
will leave you breathless and teary and laughing—often all at once.
Em's Review
First, YES! Mel did review this
early this year
, I, however, JUST finished it. So here goes!
As I am writing this review, I still have a streak of tears drying on my cheeks. Tears of both happiness and heartache, like I was living this myself. That's how magnificent this story is, pulling emotions out of me, like a magician's scarf trick.
Told in shifting time frames, Noah (who draws everything, on paper or in his mind) who tells his tale at 13, and his twin sister Jude ( who scruples out of sand, sews, and follows her Grandma Bible of superstitions) telling her tale at 16. You can not escape without half your Kleenex gone, and your mind blown away by the images this story put there, as we see these children grow apart and come together again with love, betrayal, heartbreak and then forgiveness.
You know, how in many stories you find that one character you connect with? In
I'll Give You the Sun
, I don't know which sibling I related too more. They both spoke to me. Noah mind paints like I can make a story up in my head (getting it to paper is the hard thing), yet Jude protects her sibling much like I did with mine, sometimes still do. Noah will be quiet, looking at the world as an outsider, while Jude is more daring. Only to have them switch has their life was rocked with loss. My just my siblings and I have done time and again. Without spoiling this story, so much of it I could equate it to a part of my own growing up (maybe this is what the tears are from). When one was weak, the other strong. Carrying burdens our young selves didn't need too. Our plans change, our parents have their own secret lives, and siblings will pull apart and come together again and again.
I swear to Clark Gable you will love this story, and what everyone to read it too.